Test de connaissance du Français

Please note that tests fees are not refundable and that the date selected is firm.
1. Choosing your test
Make sure the TCF is the right test for your situation.
See the different options below.

Alliance Française Halifax and its employees cannot be held responsible for the test selection made by the candidate.

When signing up for the test, candidates understand that they will have to read simple sentences written in French and understand that they are required to be able to do so.

In order to take the computer-based TCF test, you must have basic knowledge of computer skills (be able to read on a screen, use a mouse pad and a keyboard).
2. Registering
If you would like to register for the TCF Canada, you can do so at the available dates. Please note that the time is subject to change depending on the number of candidates.

Verify the accuracy of the information you provide on the registration form as we will need to contact you to confirm your registration.

If you would like to register for any other kind of TCF, please email us: exam@afhalifax.ca or call us at 902-580-8284.

All requests for accommodations must be accompanied by supporting documents at the time of registration (doctor's note to specify the nature of the situation and which arrangements must be made to ensure you take the test in the optimal conditions).
3. Paying the fees
Accepted methods of payment:
- using our online store
- over the phone with Visa or MC
- Interac etransfer

Important: It is the candidates' responsibility to ensure that they are paying for the corresponding fees.

For any questions, you can email us: exam@afhalifax.ca or call us at 902-580-8284.
4. Scheduling your test
You can book your TCF Canada using our online store. Your registration will be confirmed once we have received your payment.

If you would like to register for any other kind of TCF, please email us: exam@afhalifax.ca or call us at 902-580-8284.

Should you need to reschedule your test appointment, in case of an emergency only, please contact us at exam@afhalifax.ca or call us at 902-580-8284 as soon as you can.
5. Test Day
Candidates must arrive at the official centre at the time of their appointment with their official convocation and a valid official identity document with photo.

Leaving the room will not be permitted, unless in case of emergency or health issue previously informed by the candidate and justified with a medical certificate.
Communication with other candidates will not be permitted.

Candidates arriving late will not be allowed in the examination room once the examination has started.

In the event of fraud or misconduct by a candidate (disturbing the examination procedure, communication, or attempt to communicate with other candidates or the outside…), candidates expose themselves to immediate removal from the examination room as well as a ban from taking the test for a period that will be determined by France Education International.
6. After your test
An official certificate of results will be sent by email 15 business days after the test has been completed.

TCF certificates are valid for 2 years.

If you would like to contest your results, please contact us at exam@afhalifax.ca within 30 days after receiving your results.
Please note
In the case a candidate is not allowed to enter the exam room (for example a candidate without a valid piece of ID), fees will not be refunded and a new application will be required after 30 days.
Payment must be made in full at the time of registration.
Registration fees for Tests and Diplomas are not refundable under any circumstances, unless Alliance Française has to
cancel a session of tests, in which case an alternative exam date will be offered, or a full refund will be granted.
An official notification will be sent by email to the candidate before the test.
Information is given as an indicative reference only, It is the sole responsibility of the candidate to ensure that he/she is
registered for the appropriate test.
Please contact the appropriate authorities should you have any question or concern about your application.
TCF OPTIONS

Prepare for your TCF test with the online learning platform Prepmyfuture! You will have access to learning sheets and exercises specific to the TCF.
What is included:
1 TCF diagnostic
Official mock tests
Test simulations
Learning sheets for each question type
Refresher course in grammar and vocabulary
TCF exercices to progress

PrepmyTCF has been designed by France Education International.
Prepmyfuture products are non-refundable.
---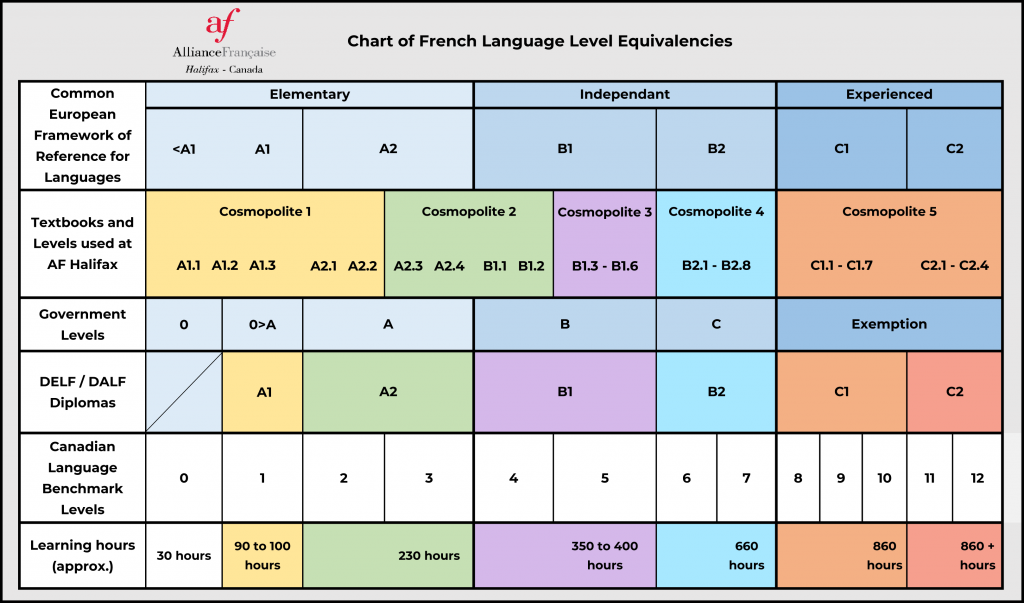 The 6 competency levels, A1 to C2, of the Council of Europe's Common European Framework of Reference for Languages (CEFR).
The 12 levels of the Canadian Language Benchmarks (CLB).
Do not hesitate to contact us for more information!
Alliance Française Halifax
5509 Young St.
B3K 1Z7 Halifax, NS
Hours
Monday to Friday 9:00 am - 5:00 pm
Contact:
902 580 8284
902 455 4411
exam@afhalifax.ca